Posts for tag: tooth decay
By Zev Maybruch, DDS
May 14, 2018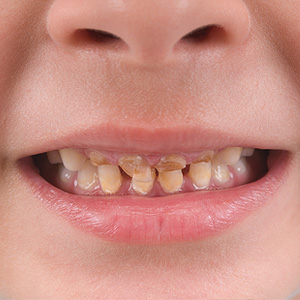 When your baby's first teeth come in, you might not think it necessary yet to worry about tooth decay. But even infants can develop this common dental disease. In fact, it has a specific name in children 6 and under: early childhood caries (ECC).
About one-fourth of U.S. children have ECC, and poor or minority children are at highest risk. Because of primary ("baby") teeth's thin enamel layer, ECC can spread to healthier teeth with unnerving speed, causing extensive damage.
While such damage immediately affects a child's nutrition, speech development and self-esteem, it could also impact their future oral health. Permanent teeth often erupt out of position because of missing primary teeth lost prematurely, creating a poor bite. And children with ECC are more likely to have cavities in their future permanent teeth.
While there are a number of effective treatments for repairing ECC-caused damage, it's best to try to prevent it before damage occurs. A large part of prevention depends on you. You should, for example, begin oral hygiene even before teeth come in by wiping their gums with a clean, damp cloth after feeding. After teeth appear, switch to daily brushing with just a smear of toothpaste.
Because refined sugar is a primary food source for decay-causing bacteria, you should limit it in their diet. In the same vein, avoid sleep-time bottles with fluids like juices, milk or formula. As they grow older, make sure snacks are also low in sugar.
You should also avoid spreading your own oral bacteria to your baby. In this regard, don't put their eating utensils or pacifier in your mouth and don't drink from the same cup. Avoid kissing your baby on the lips. And above all, take care of your own oral health to prevent your own encounter with dental disease.
Finally, start regular dental visits on or before your baby's first birthday. Regular cleanings and checkups increase the chances for early decay detection, as well as provide for treatments and prevention measures that can reduce the disease's spread and destruction.
ECC can be devastating to both your baby's current and future dental health. But with vigilance and good dental practices, you may be able to help them avoid this serious disease.
If you would like more information on tooth decay prevention in young children, please contact us or schedule an appointment for a consultation.
By Zev Maybruch, DDS
March 12, 2017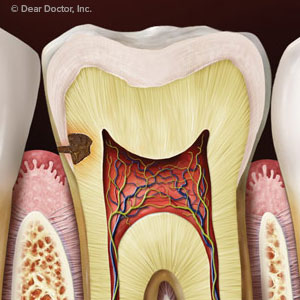 Tooth decay is one of the world's most prevalent diseases — and one of the most preventable. We've known the primary prevention recipe for decades: brushing and flossing daily, and dental cleanings and checkups at least twice a year.
But consistent oral hygiene isn't enough — you should also pay attention to your overall health, diet and lifestyle habits. Each of these areas in their own way can contribute to abnormally high mouth acid, which can soften enamel and open the door to tooth decay.
Lower saliva production is one such problem that can arise due to issues with your health. Among its many properties, saliva neutralizes acid and helps maintain the mouth's optimum neutral pH level. But some health conditions or medications can reduce saliva flow: less saliva means less neutralization and chronic acidity.
You can also inhibit saliva flow with one particular lifestyle habit — smoking. Tobacco smoke can damage salivary glands. Nicotine, tobacco's active ingredient, constricts blood vessels, leading to fewer antibodies delivered by the blood stream to mouth tissues to fight disease.
A diet heavy on acidic foods and beverages can also increase mouth acidity. It's not only what you're eating or drinking — it's also how often. If you're constantly snacking or sipping on something acidic, saliva doesn't have a chance to complete the neutralizing process.
In addition to your daily oral hygiene practice, you should also make changes in these other areas to further lower your risk of tooth decay. If you're taking medications that cause dry mouth, see if your doctor can prescribe a different one or try using products that stimulate saliva. Quit smoking, of course, as much for your mouth as for the rest of your health.
On the dietary front, reduce your intake of acidic foods and beverages, especially sodas, energy or sports drinks. If you've counted on the latter for hydration, switch to water instead. And limit acidic foods to mealtime rather than throughout the day.
It's all about maintaining a healthy pH level in your mouth. Doing so along with good oral hygiene will help you better avoid destructive tooth decay.
If you would like more information on preventing tooth decay, please contact us or schedule an appointment for a consultation. You can also learn more about this topic by reading the Dear Doctor magazine article "Tooth Decay: How to Assess Your Risk."